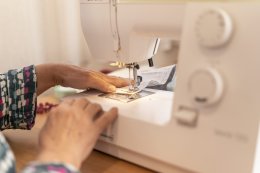 The cure for sewing stress is here…
August 1, 2022
---
Have you heard the latest gossip about the man whose wife broke her sewing machine?
It caused quite a lot of trouble in their home…
Because now she *seamed* a little stressed.
*drum hit*
Okay, maybe sewing-related comedy isn't necessarily our area of expertise.

Read More
Sharpen Your Needle With These Tips and Tricks!
July 9, 2022
---
We heard you, and we're back with more sewing tips for you to gobble up like turkey on Thanksgiving!
And in case you're hungry for more learning, check out our latest sewing classes to take your artisanal skills to the next level!